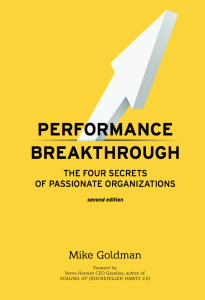 I just finished reading Performance Breakthrough by Mike Goldman and have to say it is one of the best books I've read lately. First of all, it is an easy read - which I prefer! And it's framed in a story about a business and it's trials and recovery. What's really fabulous about this book is that it describes what so many businesses go through. You can really relate to any of the characters in the book.
And then it goes a step further and describes the 4 secrets of passionate organizations:
Acceptance
Leverage
Impact
Celebration
With those explanations we get case studies so we can really see how they relate to the topic and a summary. I found this tremendously useful. There are real nuggets of information we can take into our businesses to improve them, and therefore, our outcomes.
Pick up your copy today! I'm working on getting Mike on my radio show so he can share more valuable information with all of you.